Battle Of Hue City

The city of Hue, South Vietnam, was the site of one of the fiercest battles of the Vietnam War. Three understrength U.S. Marine battalions, consisting of fewer than 2,500 men, attacked and soundly defeated more than 10,000 entrenched enemy troops, liberating Hue for South Vietnam.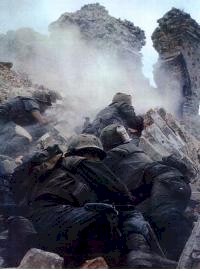 Situated in central Vietnam, Hue was the country's cultural capital, a unique blend of French and Vietnamese influence. The Imperial City, it gracefully retained the glory of Vietnam's past while its universities educated Vietnam's brightest minds for the future. Hue was a symbol of everything the Vietnamese people admired and respected. For this reason, it was spared the terrible effects of war—until Tet 1968.
During the lunar New Year holiday of Tet—a very important week-long holiday celebrated all over Vietnam—the Viet Cong and the North Vietnamese Army launched a massive assault on South Vietnam. They seized the American embassy in Saigon. They also seized the city of Hue and its population of about 140,000 citizens. This Tet Offensive began on January 31, 1968. The Battle of Hue lasted four weeks and cost some 142 American lives. Marines of the First and Fifth Regiments, fighting alongside the Army of the Republic of Vietnam's 1st Division, were supported by U.S. Army 7th and 12th Cavalry Regiments, among other units, in the battle for Hue.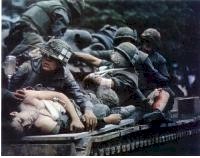 North Vietnamese and Viet Cong forces were driven out of Hue little by little as U.S. Marines retook the city one block at a time. The Marines retook the Treasury building, the university, the hospital, the Provincial Headquarters and, finally, the citadel. On February 26, 1968, the city of Hue was declared secure. U.S. forces remained another week to ensure the city's safety.
U.S. Marine Seargent Alfredo Gonzalez was awarded the Medal of Honor for his fearless gallantry above and beyond the call of duty. Today, USS Gonzalez (DDG-66) honors the memory of this hero. Additionally, countless Silver Stars and Purple Hearts were awarded for other acts of heroism.


Vietnam Veterans Home Page

2nd Battalion 5th Marines Home Page

Battle of Hue Bibliography

Bullington, James R. "And Here, See Hue," Foreign Service Journal,
November 1968.
Christmas, G. R. "A Company Commander Reflects on Operation Hue City,"
Marine Corps Gazette, April 1971.
_______. "A Company Commander Remembers the Battle for Hue,"
Marine Corps Gazette, February 1977.
Davidson, Phillip B. Vietnam at War: The History, 1946-1975. Novato, CA:
Presidio Press, 1988.
_______. Secrets of the Vietnam War. Novato, CA: Presidio Press, 1990.
Hammel, Eric. Fire in the Streets: The Battle for Hue, Tet 1968.
Chicago: Contemporary Books, 1991.
Harkanson, John, and Charles McMahon. "USMC & Tet '68: There's a
Little Trouble in Hue …," Vietnam Combat, Winter 1985.
_______. "Tet '68/USMC in Hue: The Grunts' War," Vietnam Combat,
Spring 1986.
_______. "Tet '68/USMC in Hue: The Second Week," Vietnam Combat,
Summer 1986.
_______. "The Last Days of Tet '68: Hard, Hungry, Horrible,"
Vietnam Combat, Winter 1986.
Nolan, Keith William. Battle for Hue: Tet 1968. Novato, CA: Presidio
Press, 1983.
Oberdorfer, Don. Tet!: The Turning Point in the Vietnam War.
New York: Doubleday & Company, 1971.
Palmer, Dave Richard. Summons of the Trumpet: U.S.-Vietnam
in Perspective. Novato, CA: Presidio Press, 1978.
Phan Van Son. The Viet Cong Tet Offensive (1968). Saigon:
Republic of Vietnam Armed Forces, 1969.
Pike, Douglas. PAVN: People's Army of Vietnam. Novato, CA:
Presidio Press, 1986.
Smith, Captain George W., USA. "The Battle of Hue," Infantry,
July-August 1968.
Stanton, Shelby L. Anatomy of a Division: 1st Cav in Vietnam.
Novato, CA: Presidio Press, 1987.
_______. Vietnam Order of Battle. New York: U.S. News and
World Report, Inc., 1981.
Tolson, Major General John J., 3rd. Airmobility: 1961-1971.
Washington, D.C.: Department of the Army, 1973.
Truong Sinh. "The Fight to Liberate the City of Hue During Mau Than
Tet (1969)," Hoc Tap, December 1974.
Westmoreland, General William C. A Soldier Reports. Garden City, NY:
Doubleday & Company, 1976.