Commanding Officer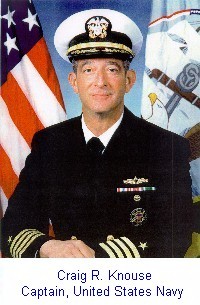 Captain Craig R. Knouse, a native of Bucks County, Pennsylvania, is a graduate of the Pennsylvania State University, where he received his commission from the NROTC program in 1974. He served his initial sea tour in USS OUELLET (FF 1077). After completion of Department Head School, he was assigned as Weapons Officer in USS PATTERSON (FF 1061) and then in USS LUCE (DDG 38).
Following his department head tours, Captain Knouse served as Engineering Liaison Officer to the Saudi Naval Expansion Program, headquartered in Jeddah, Saudi Arabia. He also served as Staff Liaison Officer, U.S. Central Command, in Riyadh, Saudi Arabia.
From March 1985 until December 1986, Captain Knouse attended the Naval Postgraduate School in Monterey, California, graduating with distinction with a Master of Arts degree in National Security Affairs. Upon completion of Postgraduate School, he reported to USS CLARK (FFG 11), where he served as Executive Officer until October 1988. His next assignment was in Yokosuka, Japan, as Assistant Surface Operations Officer, Battle Force Seventh Fleet (Commander Carrier Group Five).
Following his tour with CARGRUFIVE, Captain Knouse was assigned to the Strategic Plans and Policy Directorate of the Joint Staff, where he served as Executive Assistant to the Deputy Director for Political-Military Affairs.
In 1993, Captain Knouse assumed command of USS MCCANDLESS (FFT 1084), completed the ship's hot-plant turnover to the Turkish Navy, and then reported to USS AUBREY FITCH (FFG 34), serving as her commanding officer until January 1996.
Captain Knouse reported to USS HUE CITY (CG 66) after serving first as Assistant Chief of Staff for Operations, then as Assistant Chief of Staff for Readiness, Commander, Western Hemisphere Group.