Command Master Chief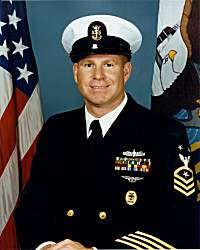 Master Chief Rogers enlisted in the Navy in 1978 after graduating mid-year from Illmo-Scott High School. He attended recruit training at RTC Orlando, Florida and initially chose the aviation field for his occupation. Upon graduation from RTC, he was meritoriously promoted to Airman Apprentice and given orders to Fighter Squadron ONE (VF-1) homeported at Naval Air Station, Miramar, California. VF-1 was embarked on board USS Enterprise (CVN 65) and USS Ranger (CV 61). Shortly after reporting aboard VF-1 he was promoted to Seaman and was placed in the squadron administration office.
Master Chief Rogers completed his first enlistment and separated from active duty in February 1982. He re-entered the Navy in April of that same year and received orders to Naval Communications Station, San Diego, California. In November 1985, Master Chief Rogers recieved orders to USS Underwood (FFG 36) homeported at Naval Station, Mayport, Florida, as ship's secretary. In June 1989 he reported to Naval Brig, Naval Air Station, Jacksonville, Florida, as Administrative Officer and later as Brig Supervisor.
Master Chief Rogers is a graduate of the Senior Enlisted Academy, Class 53. He received orders to USS Carl Vinson (CVN 70) as the Administrative Department Leading Chief Petty Officer. After selection to Master Chief Petty Officer in April 1994, he was selected for the Command Master Chief Program and received follow-on orders to USS Ponce (LPD 15) as Command Master Chief in Spetember 1995. In July 1998 he reported to USS Hue City (CG 66).
His personal decorations include the Navy and Marine Corps Commendation Medal (gold star in lieu of second award) and the Navy and Marine Corps Achievement Medal (gold star in lieu of third award).